Hydrostatic Testing:
Hydrostatic testing is a method of determining the structural integrity of a pipeline. Whether it is a new pipeline or an existing pipeline after repairs are made, hydro testing may be required before the line is put into service. 
Preparation For Hydro Testing:
Direct Integrity Services will evaluate the scope of work, provide the proper fill and test pump combinations, and insure adequate flow rates. Our technicians are available to fill, test, dewater, and dry. Certification is also available.
Equipment:
All of our test trailers are custom built with state of the art equipment such as panel mount chart recorders, flow meters, stroke counters and remote pump operations. They are climate controlled for the comfort and convenience of our customers.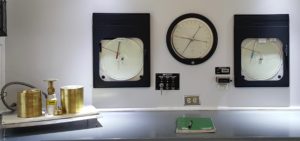 Pressure Volume Plots:
We can perform pressure volume plots on any size project and produce digital records on site. Our technicians use a computer program designed by one of our engineers that provides input for all parameters of the pipeline and testing equipment being used.
Chemical and Mechanical Cleaning:
On most new pipeline installations, mechanical cleaning is usually all that is needed to achieve a clean pipeline. A series of brush runs will remove mill scale and deposits that occur from the manufacturing process and time spent in pipe yards. If the pipeline has been in service and needs to be cleaned prior to inspection, we can introduce chemical agents along with a series of pigs to remove any hydrocarbons left behind. Anti-microbial chemicals may also be used to prevent further damage caused by microbes.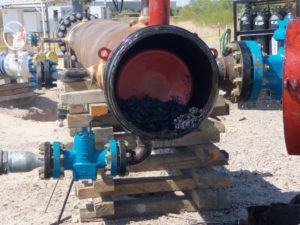 Drying:
From the smallest of fabrication to miles of cross country pipe, Direct Integrity Services has the knowledge, skill and equipment to dry to the dew point your customer requires.